The monthly readership of scotthelme.co.uk can reach over 250,000 people, particularly in months where I have featured in the media such as programmes for the BBC and ITV as well as international news commentary. Visitors come from all corners of the world to read a range of security related posts once on the site. With an average monthly readership of over 50,000 people, visitors enjoy a mixture of analysis, education, research, technical articles and links to related services.

Sponsor message
The main reason for having a sponsor on my blog is that it allows me to avoid online adverts, which have caused some controversy in the past, and to move to a model where I can have a better relationship with those advertising on my site. The sponsor message may be up to 140 characters long and can contain a link to your company, product or website. The sponsor message can be seen here at the top of the page, featured prominently on both desktop and mobile browsers.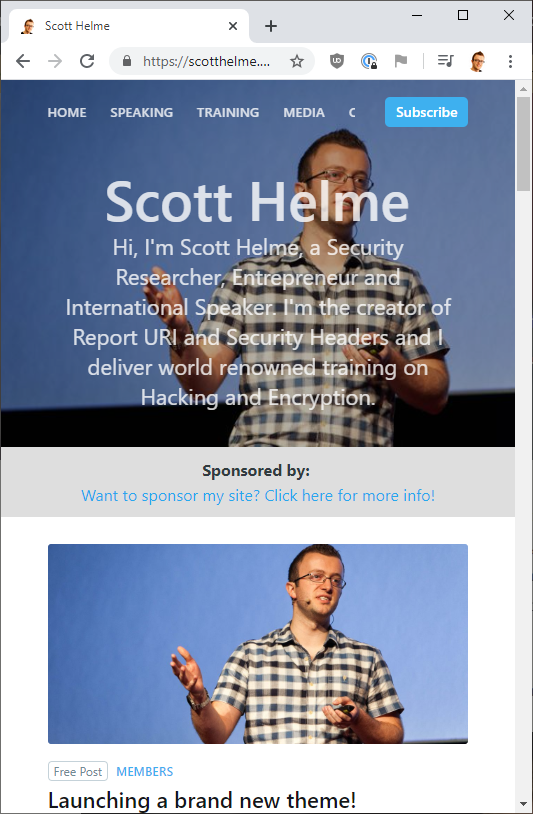 Other promotion
During the period of sponsorship I will post a message of thanks to the sponsor on my Facebook, Twitter and other social media accounts which will soon exceed a combined following of 40,000+ people. I can also take part in podcasts, interviews and other promotional activities with the sponsor where available. Depending on the sponsor I'm sure there will be mutually beneficial activities we can arrange alongside the sponsor message on my site.

Pricing
Please get in touch for pricing which varies depending on the length of promotion. All of my contact details can be found on my Contact page if you'd like to get in touch with any questions or to make a booking. Sponsorship is available in calendar month slots and longer term bookings are available at a discounted rate if you'd like.