Regular readers will know that I'm a fan of Ubiquiti's UniFi range of products, having built two home networks using them, but now, I'm expanding outside of the networking hardware. Not only am I fan of cyber security, but I'm also a fan of physical security too!
Ubiquiti UniFi
You can check out my V1 and V2 home networks, both built with Ubiquiti UniFi kit, and see just how awesome my experience with that was. I've also written a lot of blogs about tweaks I've made and improvements I've implemented along the way. As much as I care about securing my network though, I also care about securing my home that my network resides inside and that's where UniFi Protect comes in.
UniFi Protect
I've been running a few Ubiquiti cameras at home for a while now and up until recently, I've been running the Protect software on my UniFi Dream Machine Pro (UDM Pro). Ubiquiti got in touch and asked if I'd like to try out the new, dedicated, UniFi NVR and of course I was more than willing to migrate over. I needed to order a few other bits of hardware and drives, and there were some other maintenance tasks I wanted to do in my rack at the same time, but I got ready for the upgrade and bought everything I needed.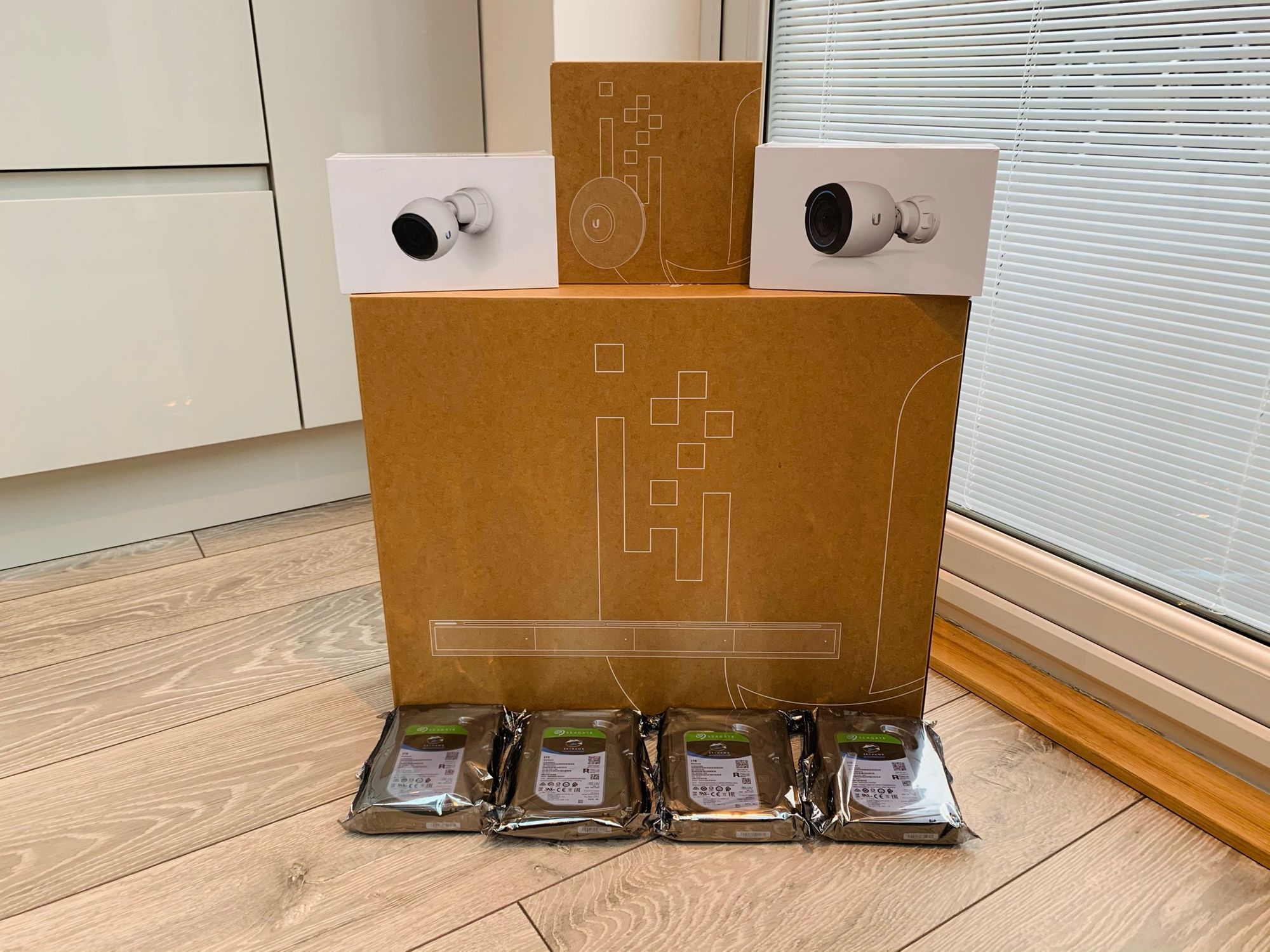 The UNVR is a 1U rackmount device that can take up to 4 drives and run them in RAID 1 or RAID 0 as appropriate. It also runs the Protect software which will remove that task from my existing UDM Pro.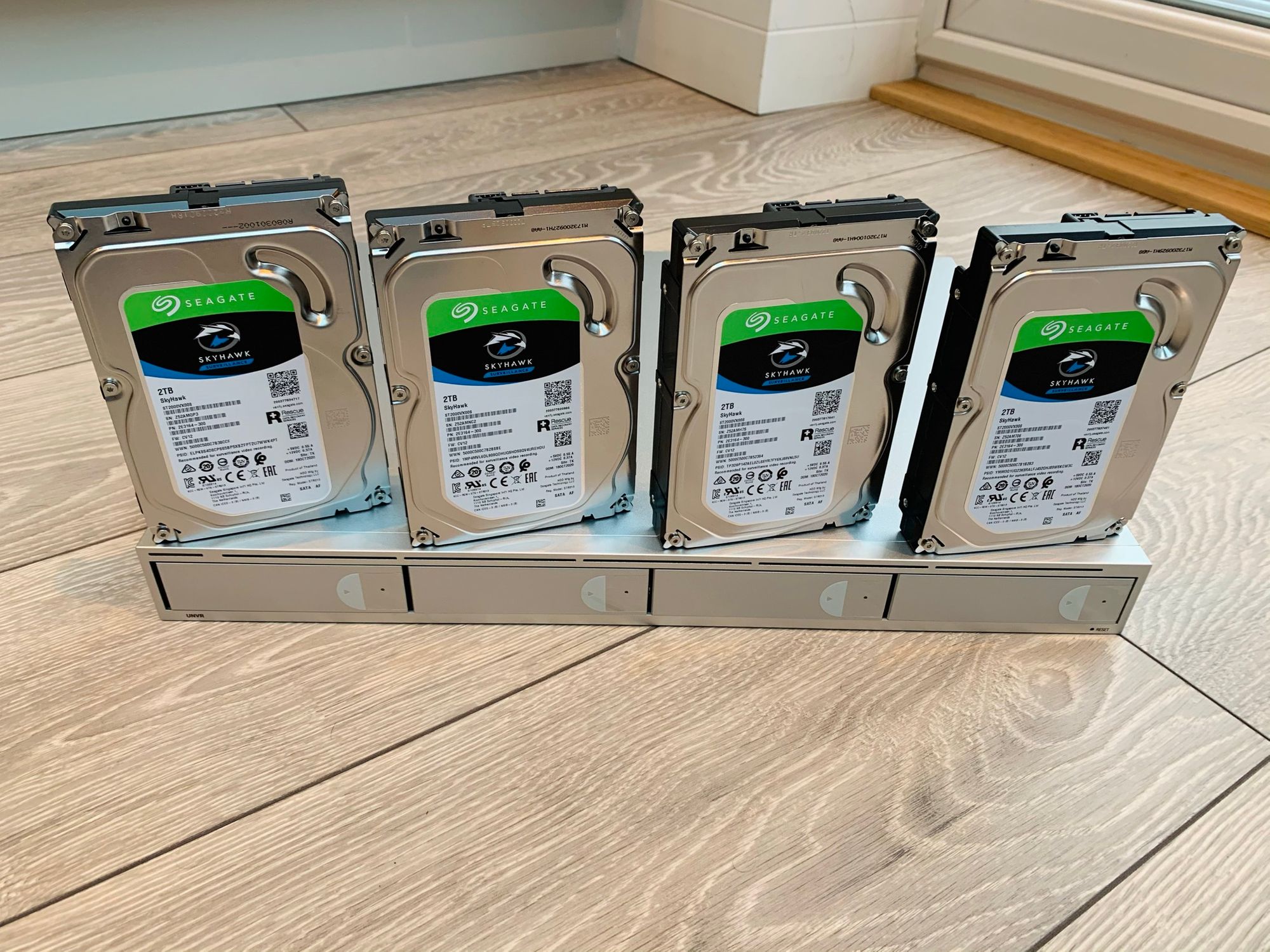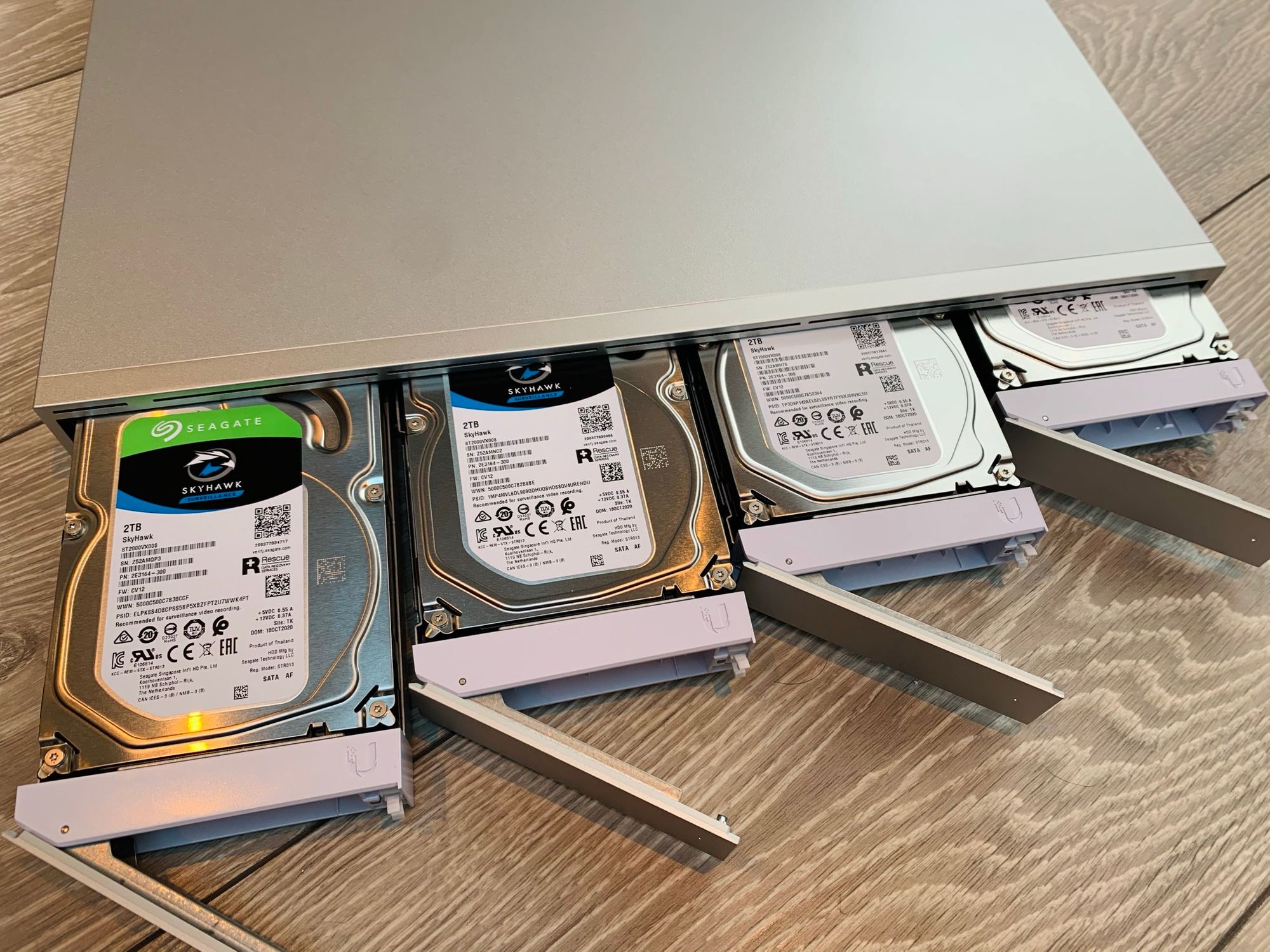 Loading up the drives is simple and once done, you're ready to install it into the rack!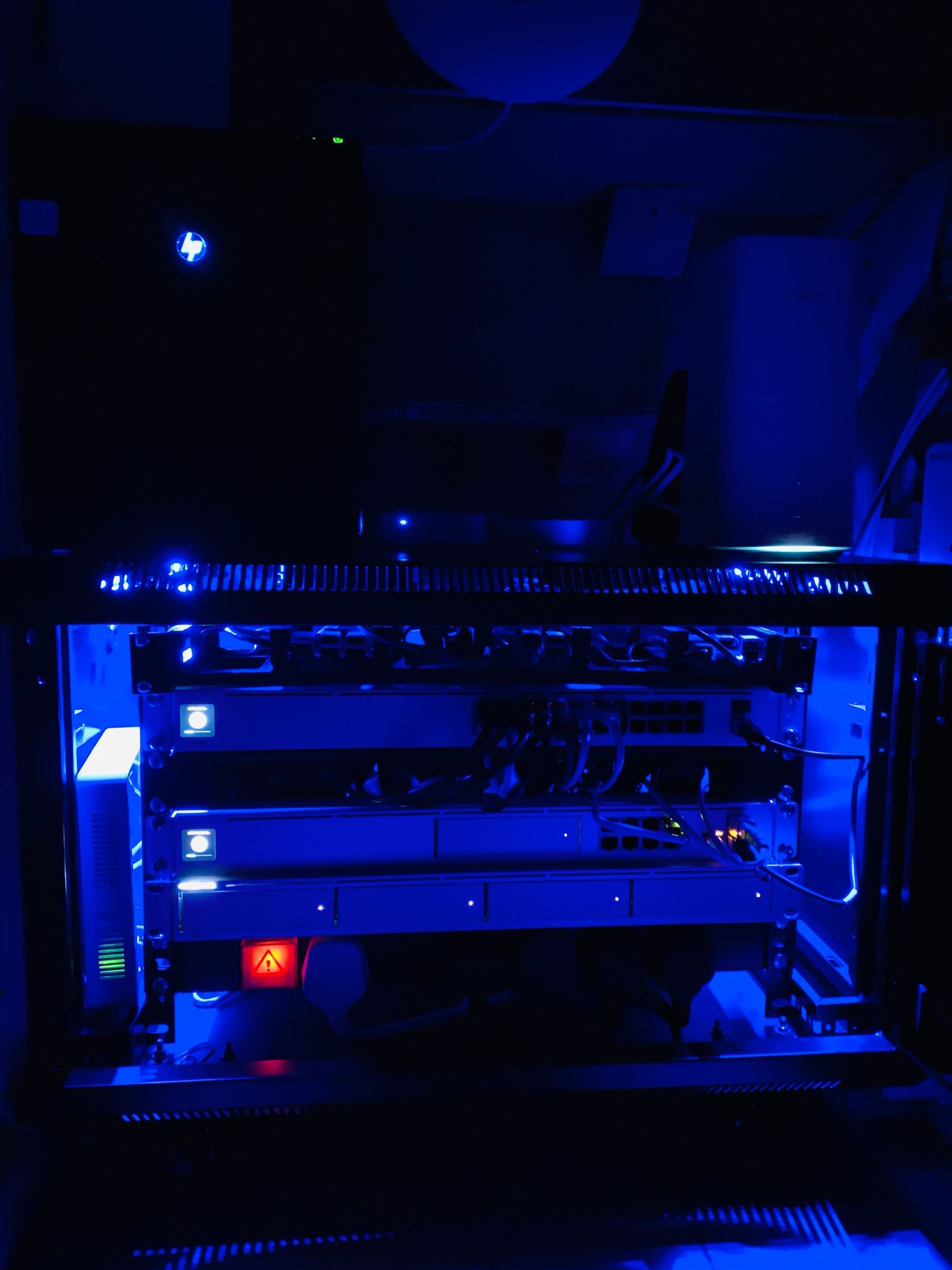 I still absolutely love this thing, it looks so awesome in there! 😎
Setup
I always try to use the UI wherever possible when interacting with devices but I'm also, often, a lot more comfortable on the command line via SSH. I did struggle to get the device to update during initial setup and I'm not sure why, but it's easy to update via SSH if you ever want to.
ubnt-systool fwupdate https://fw-download.ubnt.com/data/unifi-nvr/b794-UNVR-1.3.35-4081887726174caa8a921defd8d8b040.bin
To make sure you get the latest version if you're doing this, head over to the Releases Page and find the latest version of "UniFi Protect NVR Firmware" and substitute the file URL into the command above.
Moving your cameras over is super easy, all I had to do was go to the Protect app on my UDM Pro, select each camera and click "unmanage". Then, you head over to the UNVR, click "Devices" in the menu and click "add devices". It automatically detected the unmanaged cameras and adopted them into the new UNVR!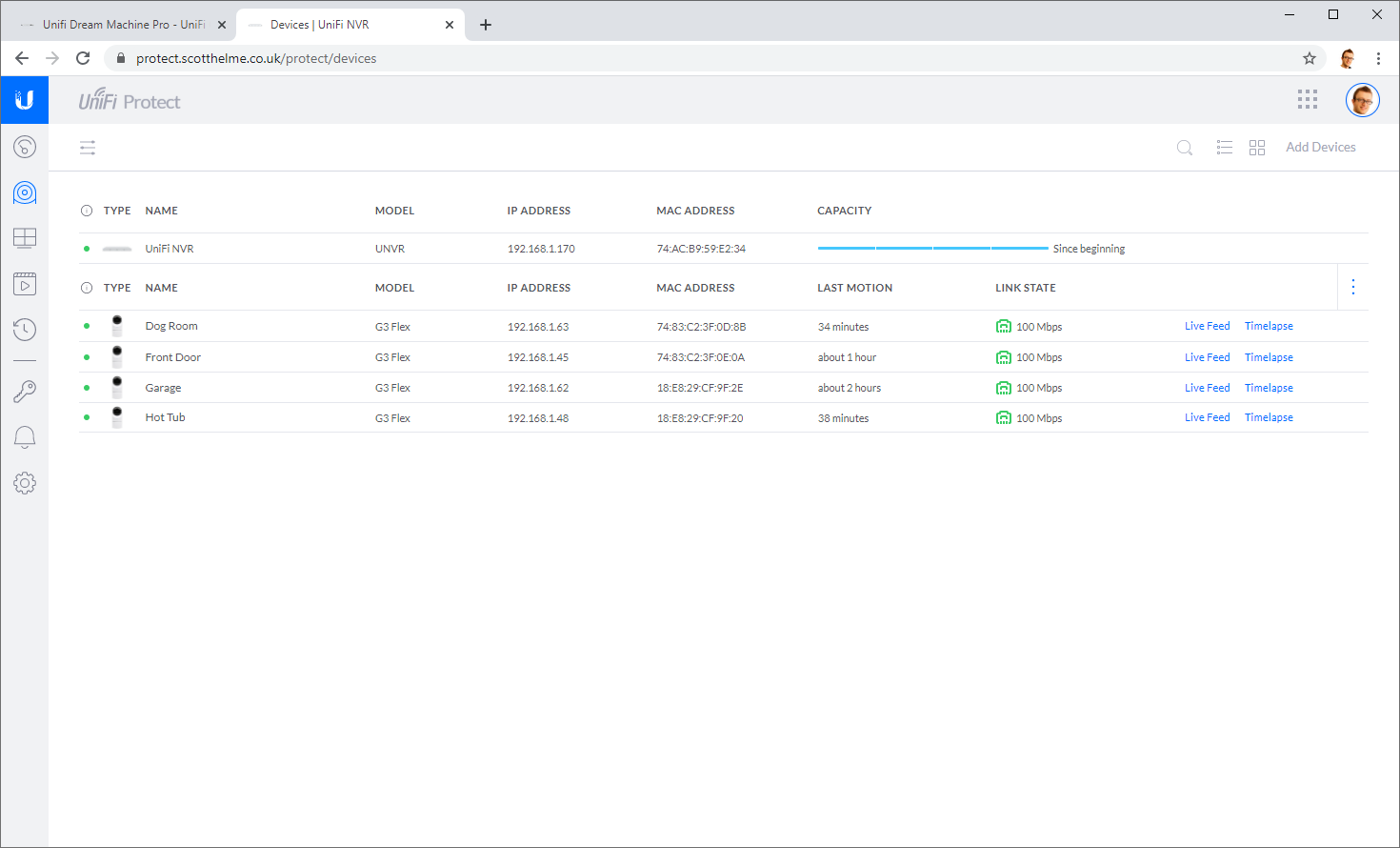 That's... kind of it!
Comparing to my existing CCTV
When we bought our new house, it already had a full CCTV system wired in but it was a budget system. The cameras were OK and the interface was OK, but nothing about it was brilliant. If somebody tried to break into my house at night all I'd be able to tell the police is that a group of 47 pixels tried to gain entry to the premises... It wasn't quite where I'd like it to be. It's also had only one update available in the two years I've owned it now, which seems a little lacking, and when I tried to install that update, well...
Did an update on the cctv system that came with our house and it bricked itself to the point where even the firmware recovery tool didn't work. Recovered it with a hacked together serial connection! How's your Sunday going? 😎 pic.twitter.com/lbuXAOLIXH

— Scott Helme (@Scott_Helme) May 10, 2020
As you can see in that tweet thread, it did not go well and the DVR unit almost took a leap out of a window! That said though, I did fix it and it didn't seem reasonable to just rip it out and waste it. Also, the cameras run on coax so I couldn't make use of them to swap in the Ubiquiti cameras either. I figured I'd install the new Ubiquiti system and have it complement the existing system with more coverage. That gives me almost full coverage of the property and also gives me a good comparison between the two, side by side.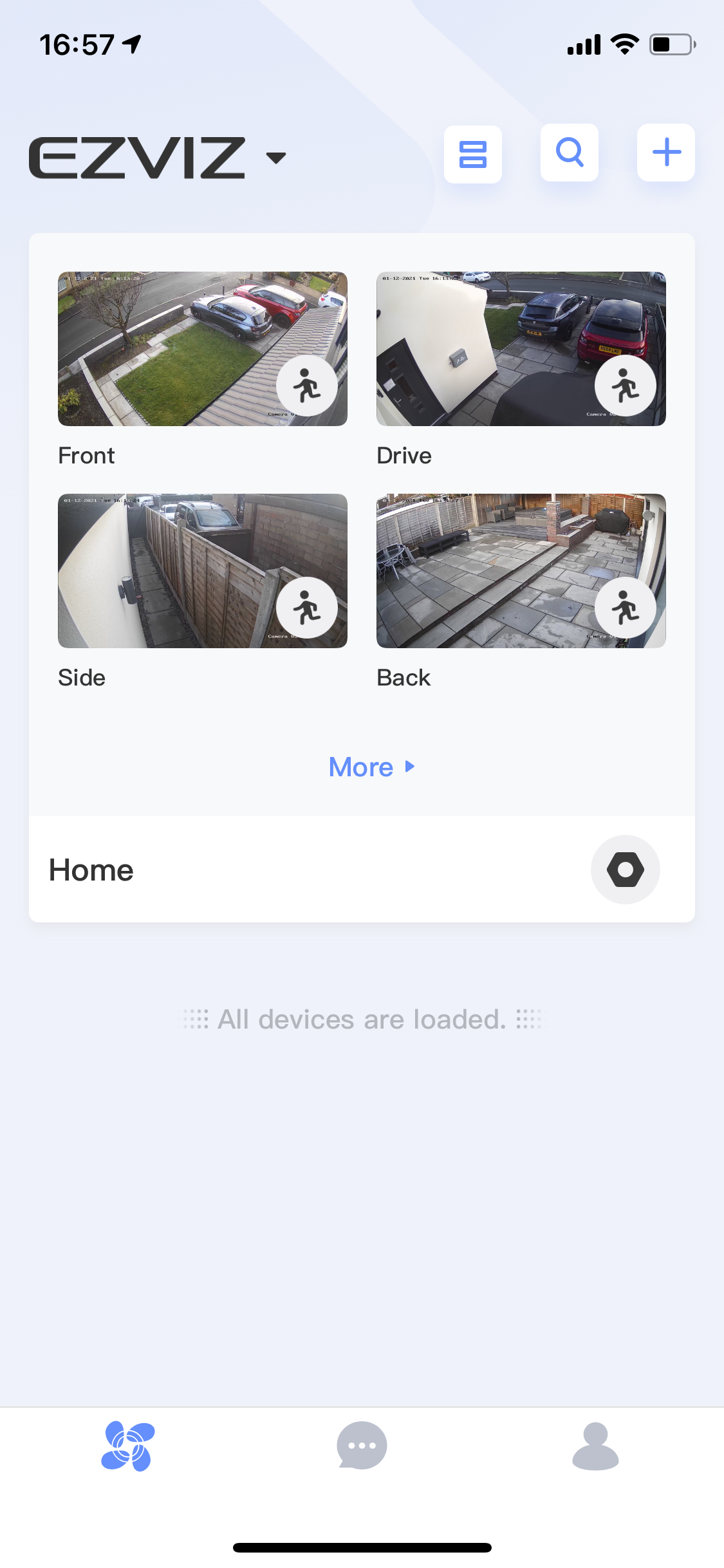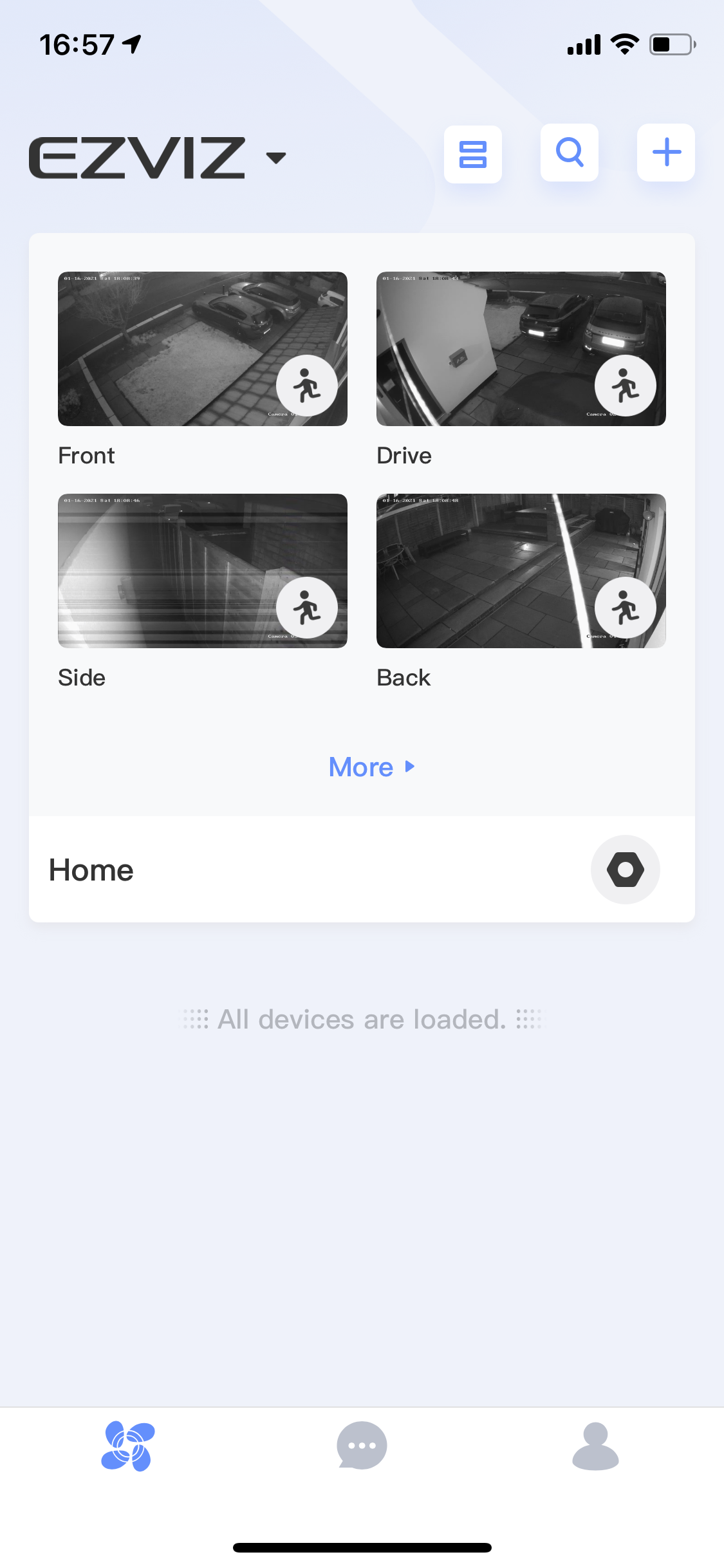 The app to control it all is called EZVIZ and the hardware is made by Hikvision and for a basic system it's OK, but it just does not compare to the Ubiquiti kit at all.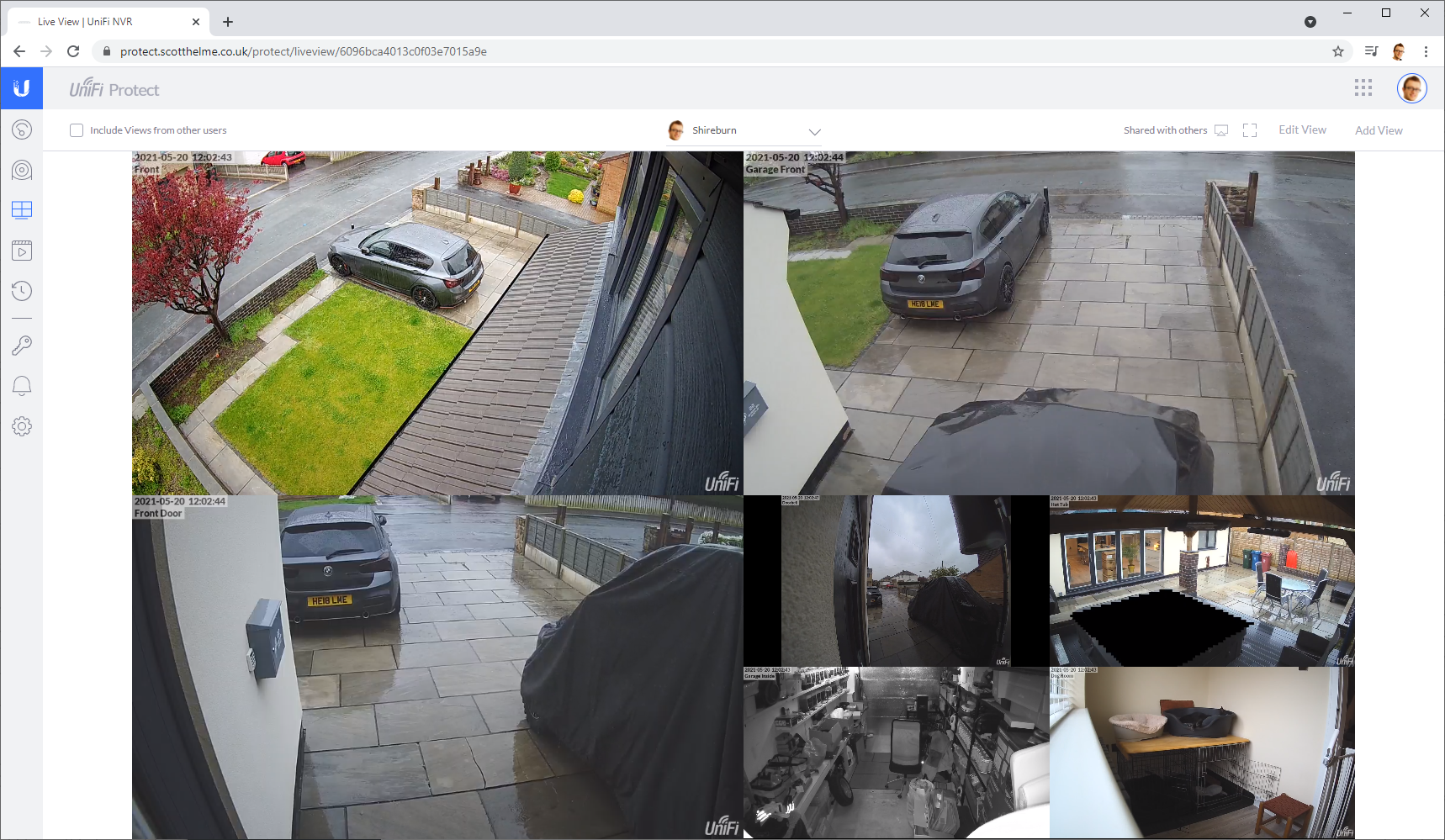 The UI for the web interface is far better and so is the Protect app, even things like scrubbing through footage is effortless.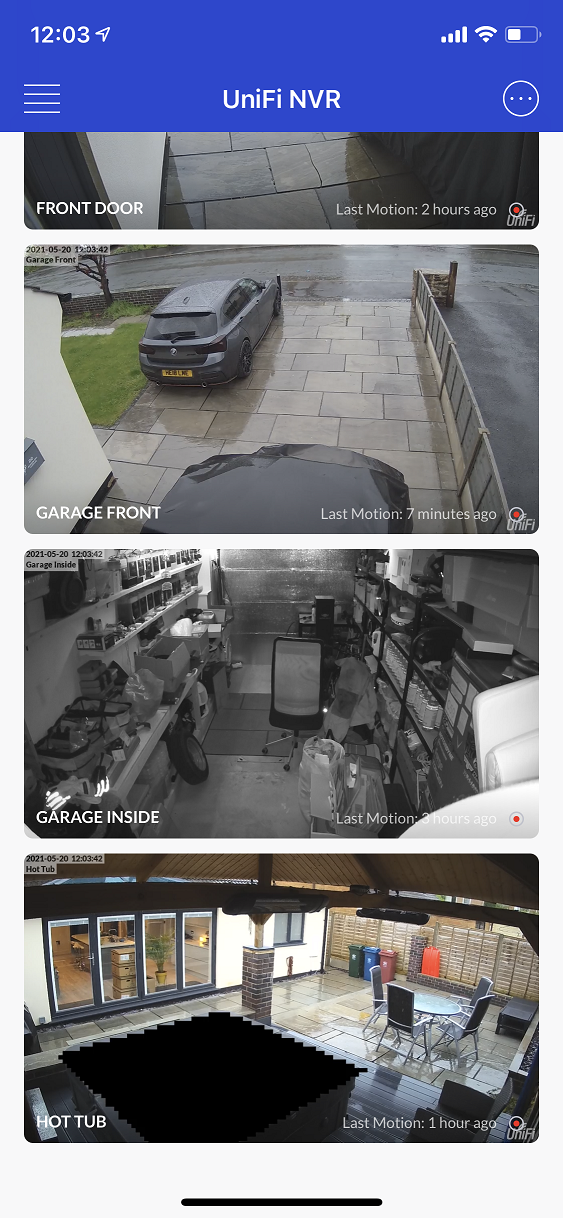 Smart Detections
I've been impressed with the quality and usability of this kit, but one thing that I genuinely said "woah" when I used it was Smart Detections. The G4 range of cameras have the ability to detect vehicles and people in the shot and trigger a notification. All of our cameras are angled as best as is possible to only capture our property and a small fraction of the surrounding street so we can see someone stood at the end of our driveway, for example. We use privacy zones to blank out the rest and the smart detection zone is set to catch things the second they enter our property line and wow is this thing good!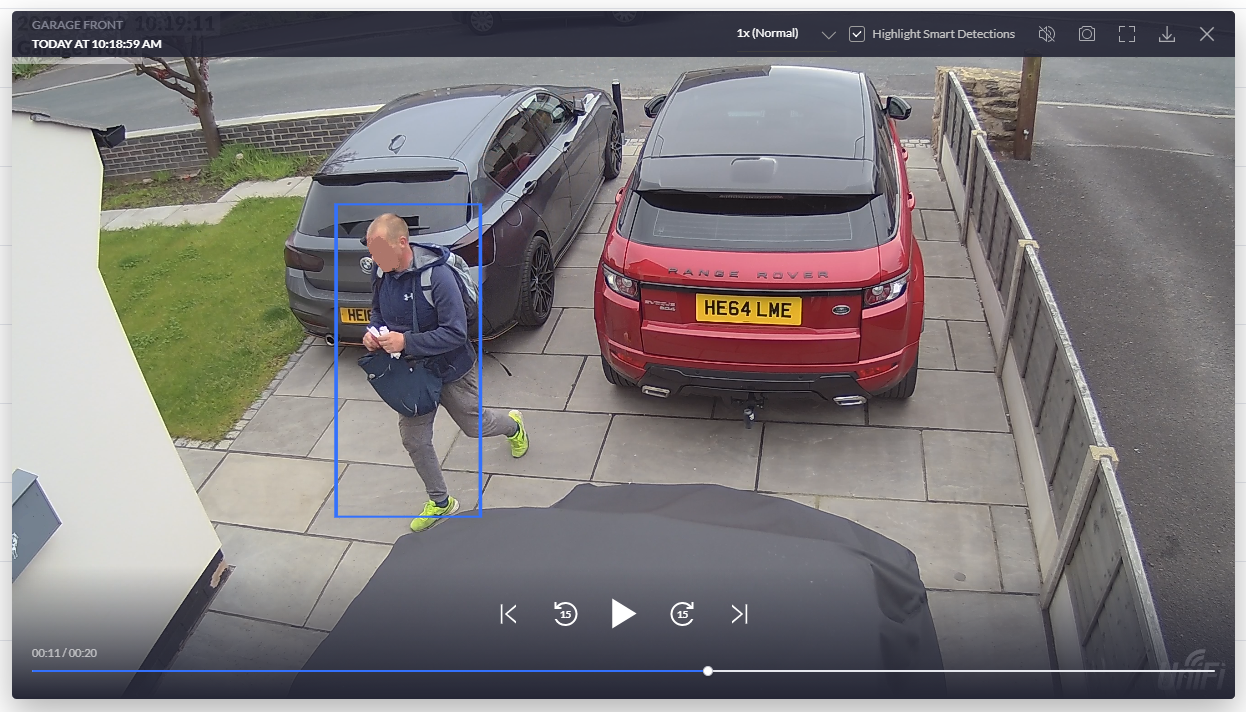 I've blurred the face there myself, but the blue highlight is the Smart Detection area for a person and red ones are for cars when detected, which is usually when we arrive home or drive off and it picks us up! The great thing about this is that our existing CCTV system is triggered on motion and I'd get maybe 10 motion alerts a day when the neighbourhood cat came strolling across our garden. Now though, I've never had to look at notifications for the cat since!
More to come!
After setting up the new Ubiquiti kit it really was night and day compared to the old CCTV system, so much so that it actually made us want to fully replace the old system with Ubiquiti cameras, which is exactly what we're now going to do. I will be buying some more cameras to replace the existing cameras and also adding a couple more just to complete our coverage around the property. I will also need some big reels of Cat5 to replace the coax for the existing cameras. I'm also very excited to be finally getting the new Ubiquiti doorbell which will be happily replacing our 'dumb' doorbell and there will be a blog coming on installing HTTPS certs on the UNVR so you can have full HTTPS in the UI too! Finally I've also bought another bit of UniFi kit to complete the whole system so stay tuned for the next post to see what that is.