After recently upgrading my home network from 'V1' to 'V2', there was one little issue that I've been wanting to solve for a while but hadn't quite manged to get to and it was the WiFi reception in the Hot Tub. Yes, I know, it doesn't sound like a real problem but as a tech geek it was bothering me and it had to be solved!
---
The problem to solve
Despite the title there is a serious point to this blog post but why not make things a little fun while we're all here? When we moved into our new house almost a year ago, it was pre-wired for Ethernet in a bunch of rooms downstairs, but none upstairs... This was great, because having some wires was better than having no wires but it still meant that everything upstairs had to be WiFi, which included my office. Eugh.
To solve this problem previously I've been using powerline adapters but I've just never had 100% reliability from them. There are two points upstairs where I need connectivity over a wire and one of them is the CCTV controller that doesn't support WiFi and the other is my desktop, the powerhouse of my work, that I want a solid and reliable connection on. The other problem that I have is that it means there are no WiFi access points right at the back of the house because there are no wires there. That means the WiFi signal strength in the back garden, and the hot tub, aren't fantastic because of the distance it has to cover.
Extending your WiFi with UniFi
When I upgraded from 'V1' to 'V2' of my home network, Ubiquiti sent me an additional nanoHD AP and FlexHD AP, which gave me a new option and got me thinking. I know their UniFi range of APs support mesh networks but I've never actually used it before and now seemed like a great time to try it out.
A Mesh Network is where APs link to each other over wireless instead of wired. Imagine the following setup, where we have 2 APs wired into the switch, and then the following setup where the 2nd AP is connected to the 1st AP via WiFi.
                         +------+
                         |      |
                +------->+  AP  |
                |        |      |
                +        +------+
    +----------+
    |          |
    |  Switch  |
    |          |
    +----------+
                +        +------+
                |        |      |
                +------->+  AP  |
                         |      |
                         +------+
+----------+      +------+      +------+
|          |      |      |      |      |
|  Switch  +----->+  AP  +----->+  AP  |
|          |      |      |      |      |
+----------+      +------+      +------+
This means the 2nd AP is free to be placed physically much further away and you don't have the trouble of needing to find a way to run a network cable to it. This is perfect for the situation in my office and out by the hot tub!
Setting up a mesh network
First up was my office and the important stuff. I call it my office but it's one of the spare bedrooms in the house that's been converted into my office. The funny thing is that we actually have an office room downstairs that is wired for Ethernet but with my wife working from home and a young child, I wanted my office upstairs and out of the way during the day.
To setup the mesh network you need to enable Wireless Uplinks on the appropriate APs. Head to the Devices section in your controller, select the existing AP and head to Config then Wireless Uplinks. Simply enable the 'Allow meshing to another access point' option and hit Apply.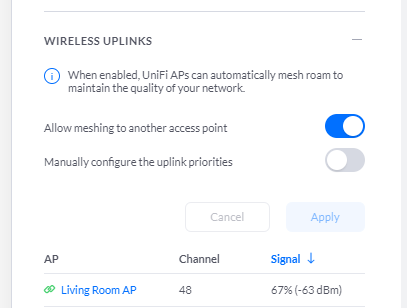 Now, for the second AP you need to do the same thing. If it's a brand new device that you're setting up like me, you need to plug it into a switch and Adopt it first, then enable this option. Once you've done that, it's ready to go. Simply unplug it, take it to where it will live from now on and power it back up. Give it a couple of minutes to boot and to realise that it's no longer connected to the network and it will switch over to a Wireless Uplink. This can take a few minutes the first time it happens for setup, so just wait for it, and then it will look like this.

That little (WIRELESS) indicator next to CONNECTED means you're good to go and that the AP is now connected over WiFi instead of a wire. Since I've set this up I've not had a single issue with it and it's been rock solid. It's not as fast as running a cat6e cable would be, of course, but it can still max out my Internet connection on the download and there doesn't seem to be any change in latency that I can measure. Time to toss those powerline adapters in the bin! (I actually gave them to a friend because I hate e-waste)
Going outdoors
At the back of our house we have an outdoor area with seating, beds and the hot tub so we spend quite a bit of time out here. This is probably the furthest point away from an AP on our property and running a wire out here from where the network cabinet is in the house is just not going to happen. As a result, the WiFi out here can drop down to 1 or 2 bars because the nearest AP is an external wall and 2 internal walls away.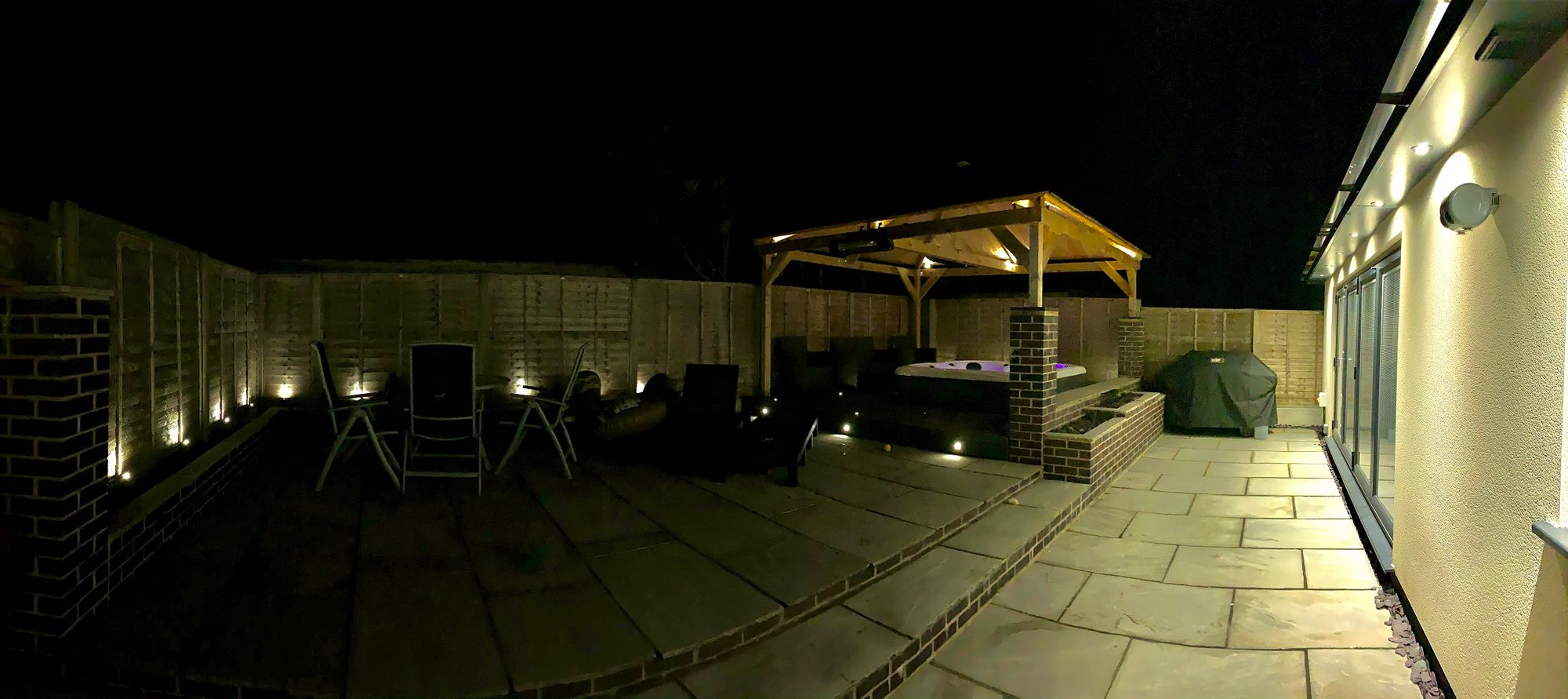 To get around this problem I wanted to put the FlexHD somewhere in the roof of the gazebo to mesh to the house network and give me much better signal and speeds outside on our devices. The FlexHD is suitable for outdoor use anyway but it is also going to be very well shielded in the mounting location. The setup for the new AP is the same as I mentioned before, just hook it up to a switch in the house, adopt it, enable mesh and then unplug it to take to it's new home and mount it.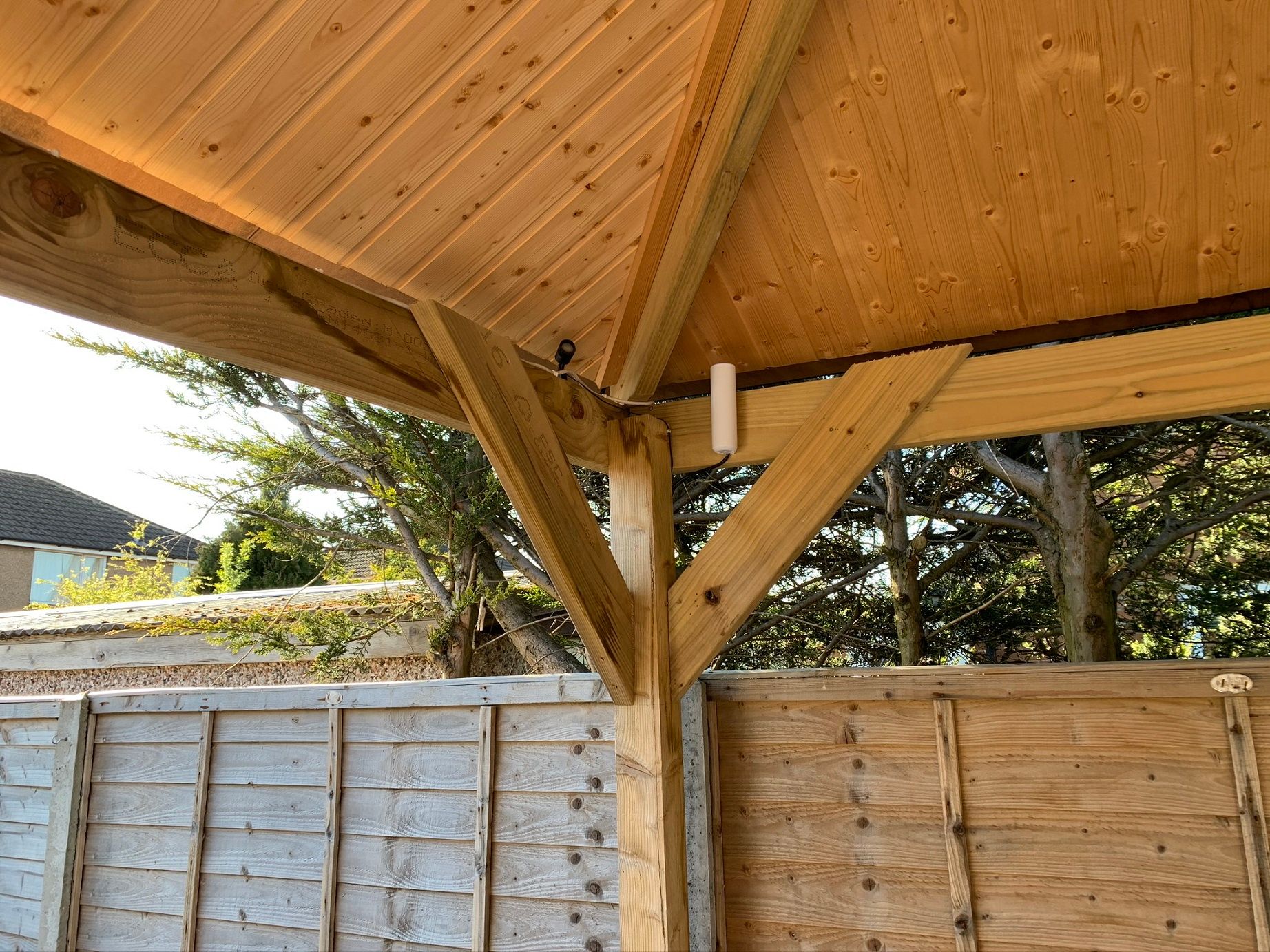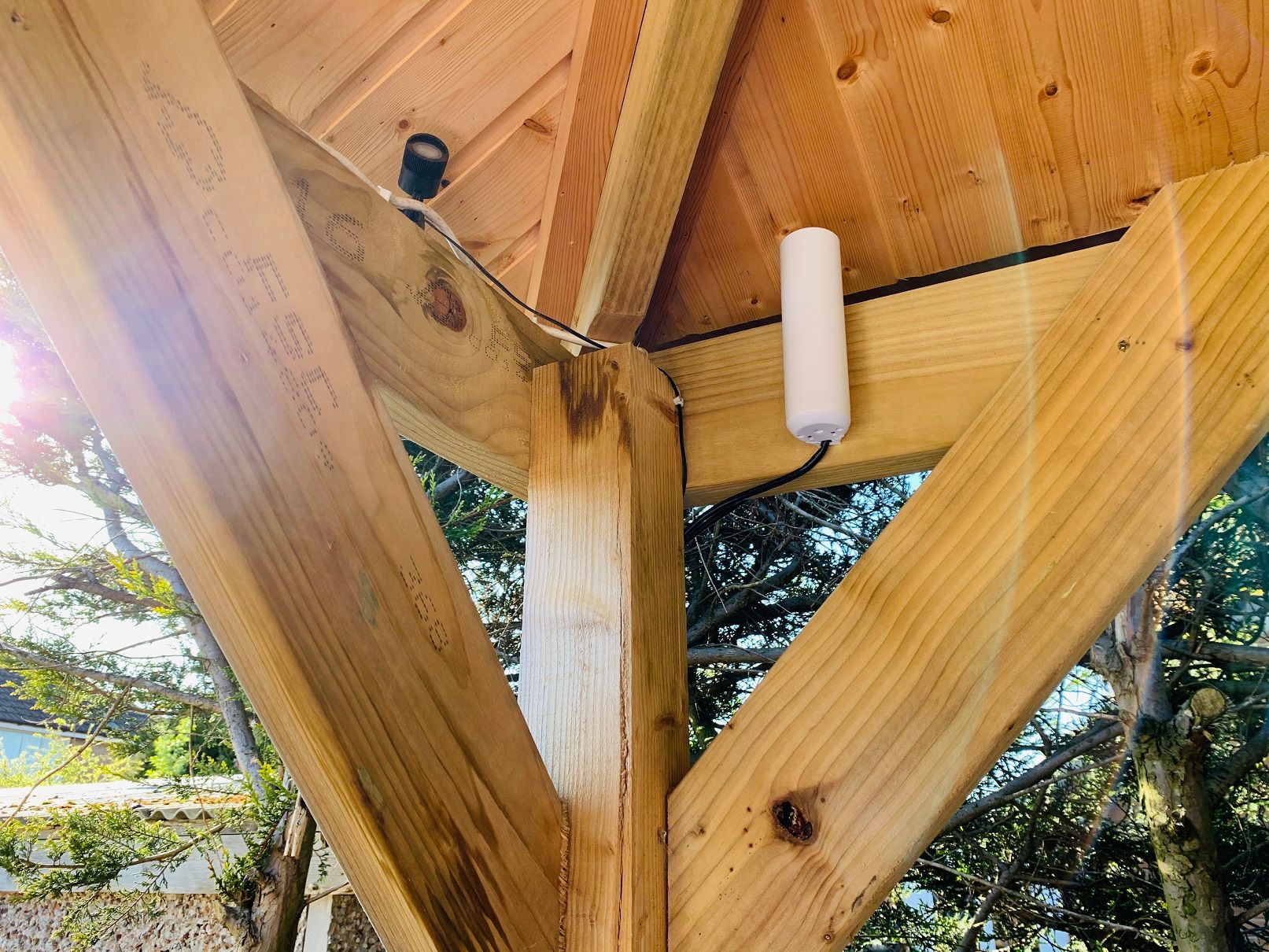 Once up there all you need to do is feed it power, done via PoE, and it will boot up and then mesh to the existing WiFi network.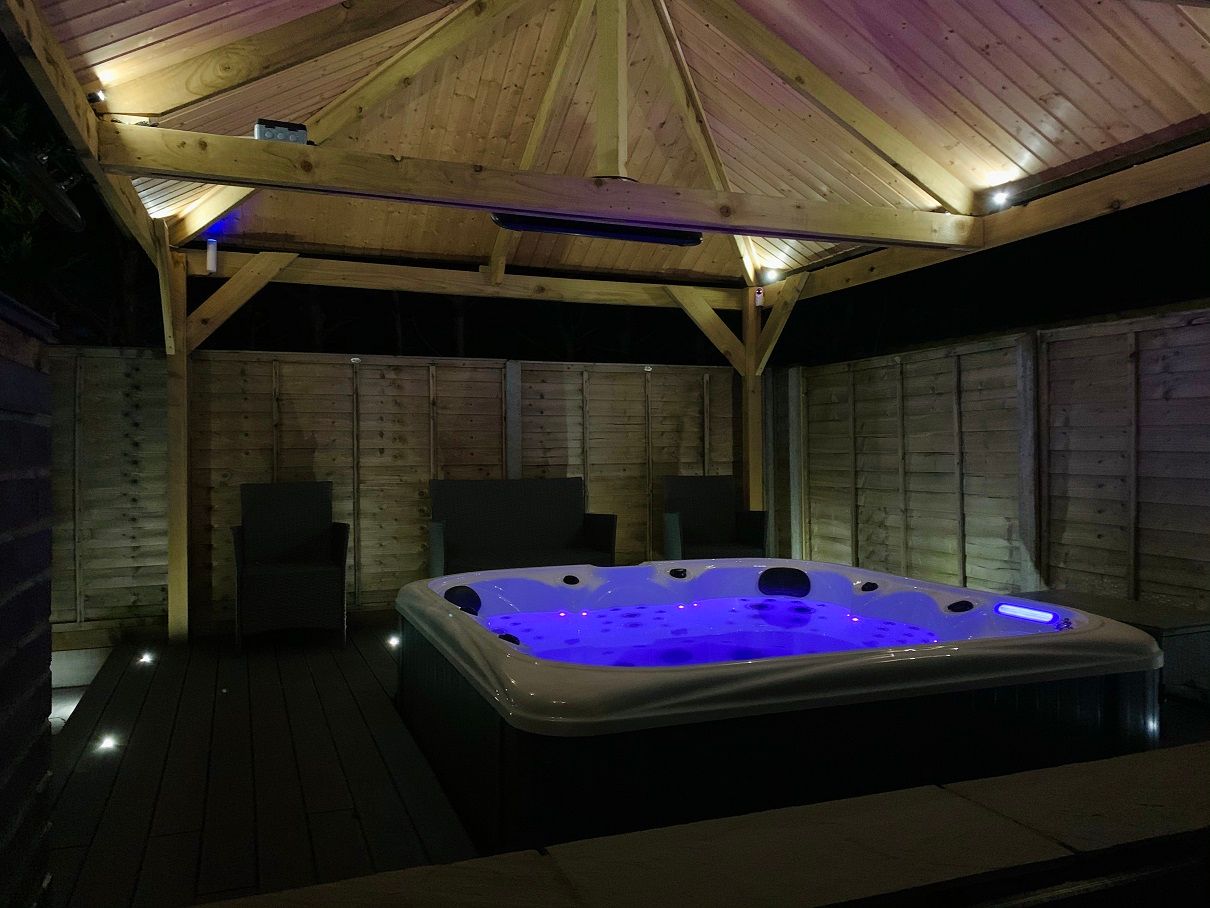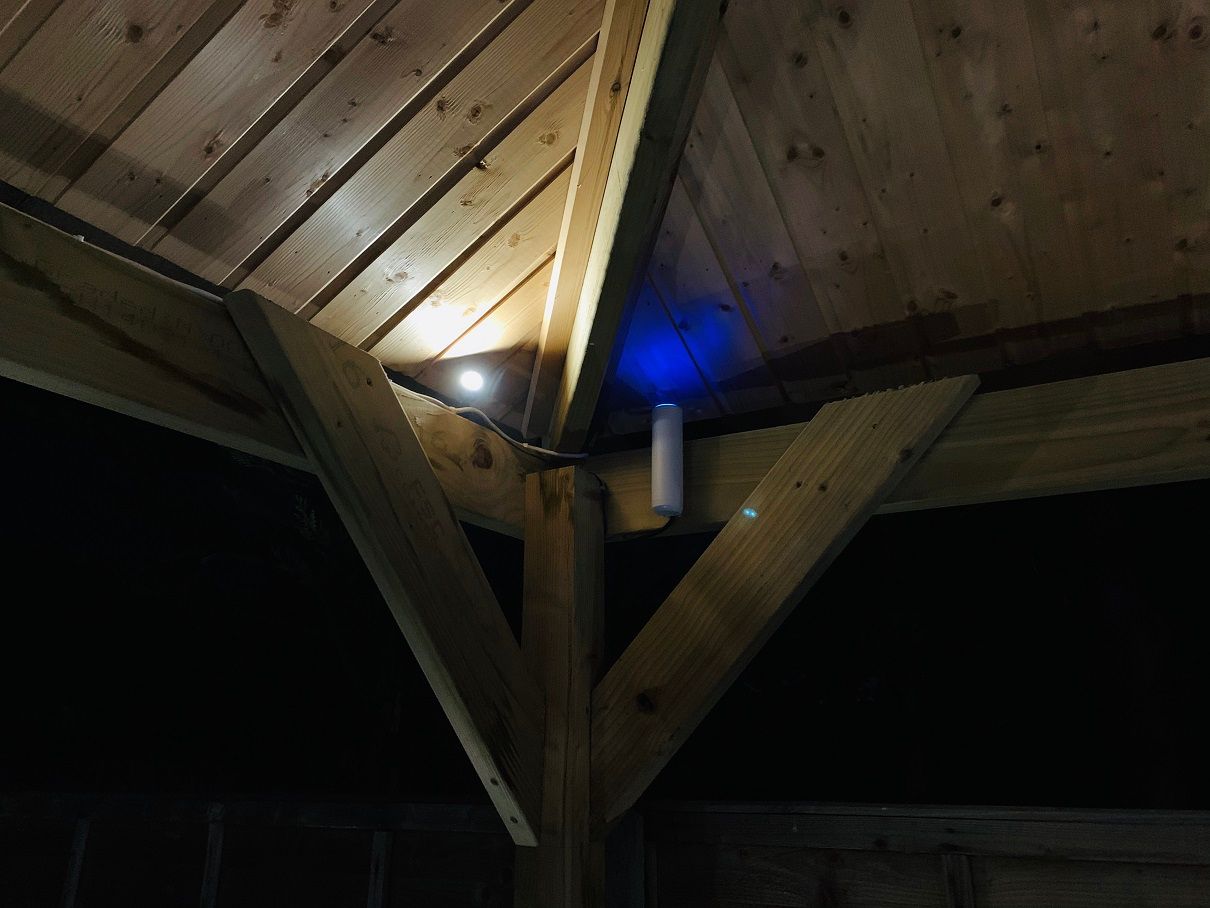 I like the cool blue glow but you can turn the LED off in the controller if you like, it also gives feedback on the current status of the device with different colours and flashing so I will be leaving it on to easily spot issues. Here's the new AP in the controller too.

That's is and it really is that easy and that simple. I won't be using powerline again and I much prefer the ease and flexibility of setting up a wireless link like this. The APs will also mesh to different APs (if they are enabled for meshing) so if one goes down briefly for something like a firmware update, then mine can switch to a different AP for the wireless link to keep things online. You do need another AP available of course but it is a nice feature to rely on.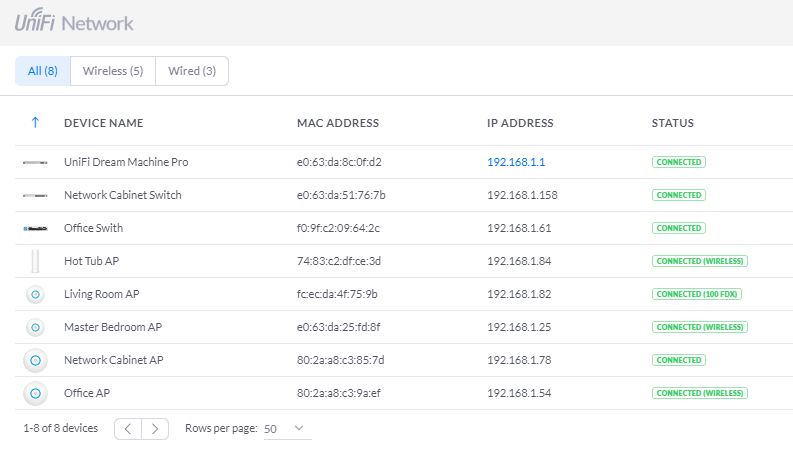 Hopefully this helps someone else out and saves you the troubles I've had with powerline adapters or trying to run cables!